(And can anyone tell me why the pictures on my site don't want to load/work properly?  The picture of my food below is not cooperating when published, but it shows clearly from my admin site!).
There is a LOT that goes into welcoming a tiny new person into your life.  I have been around babies plenty through my life.  I don't feel nervous or worried about what it takes to care for a newborn.  Am I a little worried about learning his personality, how he likes things, when he'll want to eat, how he feels about a bath, etc?  Sure.  Well, anxious may be the better word for that.  I am anxious to get to know him, so that me and the hubs can make him as comfortable as possible.  And I can completely see how some new parents are freaked out of their minds at the thought of their first night alone with baby.  If you hadn't cared for teeny tiny babies before, this certainly would be a learning experience, and while they say you "can't break your baby"……the truth is, you definitely could.  They ARE delicate (not overly so, but how would you know that if you haven't been around them???).
So, where am I going with this?  I know about babies.  Congrats to me.  What I didn't know was how much they need.  Jeeze Louise.  I mean, seriously!  We have the following:
Approximately 250 diapers, but from what I gather, that isn't likely to take us further than 2 months (at the MOST).
I have tons of tiny little outfits.
15+ burp rags, 20+ towels.
Countless little wash clothes.
5 (yes, FIVE, someone told me you need multiple due to diaper blowouts, I might even have more than five) sets of crib sheets.
Enough diaper genie refills to last a year.
8 tubes of diaper rash cream (in literally every brand available: Desitin, A&D, Boudreaux's Butt Paste, Aveeno, Burt's Bees, and some other one).
2 thermometers.
8+ bottles of lotion, shampoo, bubble bath, and other bath goodies (in varying brands).
Tons of wet wipes.
Enough breastmilk bags to get us through at least 6 months of storage!
And sadly, so far, I only have 1 nursing bra.  Hahahaha, mama gets taken care of last.  =)
While prepping all of these things and trying to ensure that we had enough of all the essentials, I kept thinking, "What if I don't feel like cooking, and no one brings us food?"  Or, even worse, I was worried people would bring a bunch of junk food over.  Don't get me wrong, I'd eat it….but I wouldn't feel good about it.
Thus, it was time to start stocking the freezer.  And this was something I had wanted to work on, because I figured this would be a really good habit to get into as the baby grew, and we had more children.  God knows when you make your own pasta sauce for a lasagna, it doesn't all come together in 30 minutes.  So, why not make 3 lasagnas at once.
First things first……we bought a SECOND FRIDGE!  We had talked about this for some time, and honestly, the main reason I thought about getting one was for breast milk storage.  I keep quite a bit of fish and chicken on hand, as well as some easy frozen lunches (since we don't eat out much, and I rarely go out to eat for lunch on my own dime, ie. I go out for business lunches only) .  Oh, and I put fresh fruit and veggies that are on the brink of death in the freezer to use for smoothies (I HATE throwing out food).  Needless to say, our freezer stays pretty full.  Combine that with Husbands obsession with craft beer and lots of fresh produce, our fridge gets pretty full right after a shopping trip also!  So, we looked for a few months and finally decided on the optimal second fridge from Lowe's.  We went with this Frigidaire 18.2 cu Energy Star model (and it gets delivered TODAY!).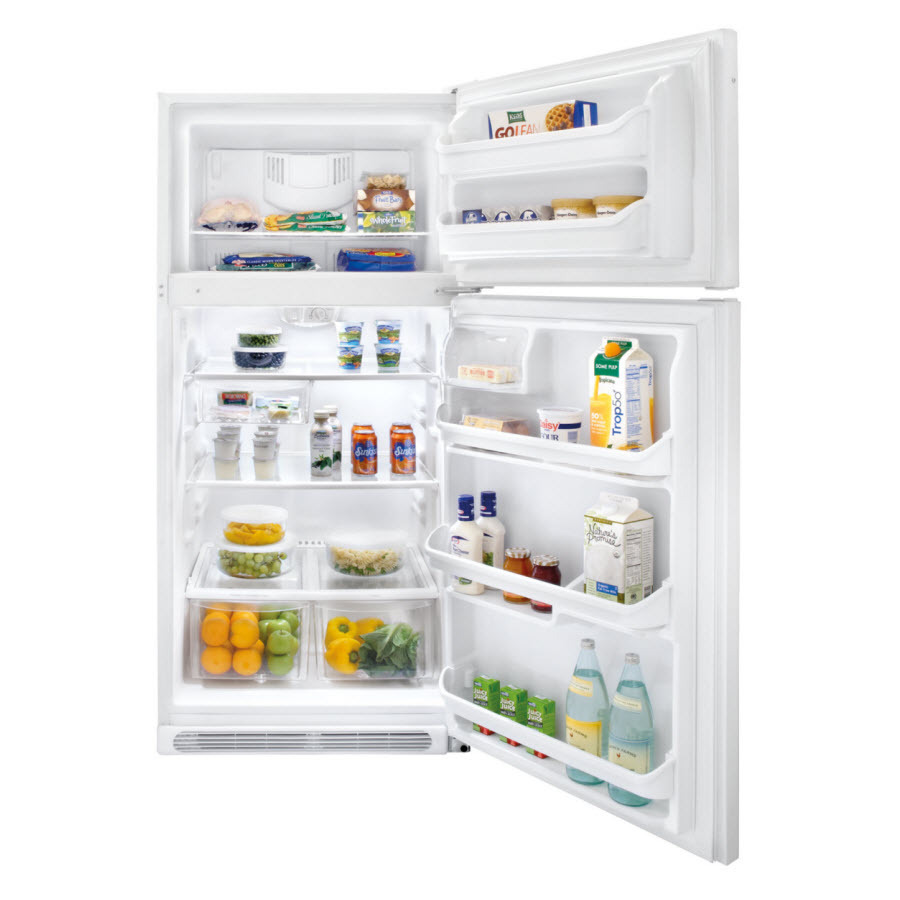 We are so excited, and now I can buy fresh foods to my hearts content….and stock up breastmilk like its my job (which I guess it will be for awhile, ha).
I searched and searched for ideas on STOCKING YOUR FREEZER.  I really didn't come up with a ton of good "lists", and in fact, found some of the things that other bloggers were doing much more helpful.  This site had a good list, and there were a few others.    What I tried to do was think of the things I like to eat and make regularly, and put those on my meal plan to make in duplicate fashion.
So Sunday I made an amazing Healthy-ish Enchilada Bake!  I really made the recipe up myself, and you can find it below.  I had purchased a few extra tins to store stuff in, so I had plenty on hand to jump right in!
CRYSTAL'S EASY & HEALTHY(ish) ENCHILADA BAKE!
Ingredients:
HEB Enchilada sauce (or any you prefer, you can even make your own…I was too lazy for that…or too pregnant)
1 pound chicken shredded
1/2 package of light mexican shredded cheese
3 flour tortillas
5 corn tortillas
1 can fat free refried beans (or black beans, again, you can make these yourself, or do a black bean soup a few days before and use leftovers to make your own beans)
melted low fat velveeta on top
Frozen corn
First combine 1/2 – 2/3 can sauce with shredded chicken and let marinate 8 hours to 2 days (then mix in 1 can fat free refried beans)
Then prepare your pan/tin by pouring a bit of sauce on bottom and spreading it out.
Flour tortillas down
Layer in chicken/beans/sauce combo
Sprinkle in some cheese
Follow this by layering in 1-2 tortillas cut into strips (I didn't not completely cover the layer of meet/beans with tortillas)
Next, sprinkle in corn (and any other veggies like tomatoes if your husband isn't picky) and  remaining cheese, then cover this layer completely with remaining tortillas (you may need to overlap or cut the tortillas, whichever your preference is)
Melt some velveeta with milk in your microwave until it is a mildly thin consistency (for pouring and spreading), then stir in remaining enchilada sauce
Use this to cover entire top of tortillas
Bake 425-450ish for 30-40 minutes, or until golden brown on top!  Let stand for, at minimum, 15 minutes.
__________________________________________________________________
Other Freezer Stocking Items to Consider:
Black Bean Soup (soups are extremely easy to double up on)!
Healthy Tomato Basil Soup (always good with half a grilled cheese)
Banana Walnut Pancakes (I just put mine in the microwave straight from the freezer)
Leftover Brisket my dad made (if you do a brisket or 2, you can save quite a bit, thaw it, and then zap it for a quick meat dish, also a great ingredient for other meals like sandwiches or mixed into pot roasts)
Roasted Veggies (just need to be heated up)
Enchilada bake (see above)
Jumbalaya/Gumbo (both awesome, fairly easy, and good for the freezer)
Pre-packaged smoothie bags(then all you need to do is throw them in your blender with some water or milk)
Pizza Crust from Trader Joe's!
And from here, you can put whatever else suits you and your families needs!  Hopefully you can stock up enough to have 2 dinners (with possible leftovers) per week for 3-4 weeks, and maybe a few breakfast items as well!
Related posts: